Stylus pens with a cord
The range styluses on this page are all equipped with a cord. The stylus pen is provided with a fixed string, which is attached to a plug. This plug allows you to easily stabbing it into the headphone jack. 
-13%

Rectable stylus pen

Very handy retractable stylus pen, decorated with a beautiful crystal motif. The stylus features a cord which attaches with a simple plug to your smartphone or tablet. Retracted, this stylus pen only 6.5 cm, extended it is 10.5 cm…

€ 7,50 € 6,50

Mini Stylus Pen

The mini stylus pen is a small stylus pen on a string. The cord is attached a small plug that lets you attach the stylus to your phone or tablet (in the ear-cap connection). This stylus pen is light, compact but comfortable to…

€ 4,50

-20%

Stylus pen Bullet

Mini Stylus bullet is a small pin but oh so convenient to use. Made of metal pen with 3 rubber rings for improved grip and protection. Available in black, silver, red and blue. Complete with plug to attach it to, for example your…

€ 7,50 € 6,00

Handy Stylus Pen

This little handy stylus is a small but highly convenient stylus pen. He is only 5.5 inches long (and can be extended to 7.7 cm) and can easily be hung on your phone thanks to the included plug with cord. The anti-dust plug fits…

€ 5,75

Stylus iPad and iPhone

This handy little Touchscreen Stylus is perfect for use as a stylus on your iPhone.The good thing about this is that the stylus next to the touch screen feature also has a pen function. Due to its compact dimensions of only 8.5 cm…

€ 6,50

Mini Stylus Bat

This mini bat stylus is a small pin, in the form of a "baseball bat". They are small enough to be ultra-lightweight and yet large enough for a proper grip. Due to its design it is well in hand, and you can operate accurately with…

€ 4,95

2 in 1 stylus pen

This stylus pen 2 in 1 is its compact dimensions, only 8 cm long, suitable for use on any smartphone. This stylus has a very fine tip, which navigate and play is very nice. The stylus pen can be attached by a cord and a plug…

€ 6,50

New in our shop

Wacom Bamboo Pocket Stylus

Wacom Bamboo Stylus Pocket is the smallest stylus pen in the Bamboo Stylus family, but that no less impressive than the other styluses Wacom. The pen is retractable (from 9 cm to 12 cm) and therefore easy portability. When used,…
Stylus-shop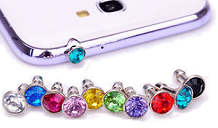 In our stylus shop you pay no shipping costs and you will receive with every order a free anti dust plug and an action code which entitles you to 15% discount on every next order! Read more ...