Stylus pen with led light
Stylus pins with a light! Easy to use and a real fun gadget. These stylus pens feature a bright LED light. Great gift to give away and an original gift to get!
Stylus Pen 3 in 1

This 3 in 1 Stylus Pen, you have more hands than a touch screen pen. He is in fact equipped with a pen and a bright LED light. Three functions in one model stylus. The stylus is like a pen very well in hand. This stylus is a pivot…

€ 8,00

Luxury Stylus

With the Stylus Luxury has more hands than a touchscreen pen. He is in fact equipped with a ball-point pens, a bright LED light and a red laser pointer. This will have four functions in one model, and this completes this stylus…

€ 8,50

Stylus Laser Led

The stylus laser LED is a handy touch screen pen. A 3-in-1 tool for effective user tablet or smartphone user. There are two buttons on the stylus. With the one you control the LED lamp, which is in the head of the pin, and the…

€ 7,50
Stylus-shop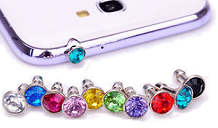 In our stylus shop you pay no shipping costs and you will receive with every order a free anti dust plug and an action code which entitles you to 15% discount on every next order! Read more ...