Stylus pens with a cap
The following stylus pens all have a cap. In the smart stylus it serves to protect the tip itself. For the other models, the cap is intended to protect a ballpoint pen. Handy !
Stylus-shop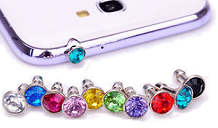 In our stylus shop you pay no shipping costs and you will receive with every order a free anti dust plug and an action code which entitles you to 15% discount on every next order! Read more ...