Combi advantage
Below is a selection of combination deals which are specilally put together to save money . By combining different models of the stylus in one offer, we can offer this additional benefit . In addition to these great offers we have a number of " more-for-less "deals, where you can purchase a set of 3 identical pens with much benefit. These Styluses will work on any device that you can control with your finger. Examples are popular devices such as all versions of the iPhone, iPad, Samsung Galaxy Devices, etc...
-50%

Ipad pennen set

This great ipad pen set consisting of five styluses (5 x Universal Stylus Pen) and it is the ideal touch screen stylus pen for ipad and tablet.

This stylus pen is equipped with a handy clip, which you can attach to him the cover…

€ 27,50 € 13,75

-48%

Stylus Gift Set

With this stylus pen gift set, you have the perfect gift in hands. The set consists of no less than five styluses and a handy credit card smartphone holder. Now on sale with 50% discount.

You receive the following styluses

∙ 1…

€ 28,75 € 14,95

-38%

Stylus Trio Deal

The stylus trio deal you receive as much as 3 styluses for only € 10, - Nowhere cheaper. The set consists of the mini stylus pen , the universal stylus pen and stylus pen one . This set also get free shipping within 24 hours…

€ 16,00 € 10,00

-38%

Stylus Pens iPad and iPhone Set

Buy this multi purpose styluses set with up to 40% advantage easily online! The set consists of the mini stylus pen , a stylus baseball bat, the universal stylus pen and stylus pen one . In short, something for everyone. Now if…

€ 20,25 € 12,50

-30%

Stylus pen set Bling

This set styluses is a nice gift to give (and get). It consists of the stylus pen crystal (ideal for use on your smartphone) and the stylus pen bling (ideal for surfing along on your tablet). Both styluses now as offer for sale.…

€ 13,50 € 9,50

price for 4 pens

Stylus pen Ipad deal

With this set styluses you jack of all trades. Now as offer online sales of € 21.25 for just € 13.50 including free shipping. The stylus pen ipad set includes:

∙ 1 x stylus pen
∙ 1 x stylus pen one
∙ 1 x Universal…

€ 21,25 € 13,50

-27%

Stylus duo deal

With this duo deal you receive 2 styluses. The stylus one and universal stylus pen .Both ideal for use on the tablet or smartphone. The normal price for this stylus pens together is € 11-, but is now on sale in our online shop…

€ 11,00 € 8,00
Stylus-shop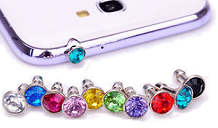 In our stylus shop you pay no shipping costs and you will receive with every order a free anti dust plug and an action code which entitles you to 15% discount on every next order! Read more ...