Luxury styluses
These stylus pens scintillate pure luxury and are therefor the perfect gift for every occasion.
Stylus Pen 3 in 1

This 3 in 1 Stylus Pen, you have more hands than a touch screen pen. He is in fact equipped with a pen and a bright LED light. Three functions in one model stylus. The stylus is like a pen very well in hand. This stylus is a pivot…

€ 8,00

Touchscreen Stylus Ballpoint Luxury

Also having trouble and such difficulty with that small keys on the touch screen of your tablet? With this handy stylus touch screen pen the luxury you can very precisely navigate and gaming. This luxury pen stylus pen next…

€ 8,50

New in our shop

Wacom Bamboo Pocket Stylus

Wacom Bamboo Stylus Pocket is the smallest stylus pen in the Bamboo Stylus family, but that no less impressive than the other styluses Wacom. The pen is retractable (from 9 cm to 12 cm) and therefore easy portability. When used,…
Stylus-shop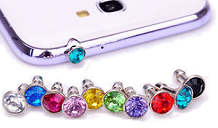 In our stylus shop you pay no shipping costs and you will receive with every order a free anti dust plug and an action code which entitles you to 15% discount on every next order! Read more ...