Completly free with every order

With every order you place in our shop, you will receive a free anti-dust plug for your smartphone or tablet. This cool gadget fits in any 3.5mm earphone jack eg. Your smartphone, tablet, ipad, etc. You will also receive a unique code with your order which entitles you to 15% off everything from your next order!
The anti-dust plug has two functions. The plug protects the ear jacket from your phone from any dust. In addition, the plug serves as decoration, and displays a peronal touch to your phone. During the ordering process, you can easily choose which free anti-dust plug you wish; the diamond dust plug or jack fruit .
Besides the free anti-dust plug also receive a calling card on which a code is indicated. This unique code entitles you to a 15% discount on your next order, and is ready to use. Both the plug and the discount code is Free shipped with your order.
Stylus-shop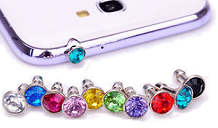 In our stylus shop you pay no shipping costs and you will receive with every order a free anti dust plug and an action code which entitles you to 15% discount on every next order! Read more ...